Oh, how we love our curly girls! Those spirals are the curiosity of many. We know that only you know exactly what your specific hair texture needs and how low or high maintenance your curls are. If you're new to the game or are finding a better way to maintain your curls, we got you covered. In this article, we discuss Top 5 Tips for Naturally Curly Hair that everyone with curly locks needs to know about. These simple steps can easily be added to your hair care regime and don't require any extra effort. Now, you can show off your beautiful curly hair every day of the week with minimal maintenance required.
Follow the Co-Wash Routine
A head full of curls is naturally dry as compared to straight hair and requires a lot of moisture. Using shampoo often can further strip your scalp of natural oils and can result in crunchy, hay-looking locks. To avoid that, use the 
Co-Washing
technique to cleanse your hair. Remember to use a silicone-free conditioner, carrying organic oils to co-wash your curly hair.
Use Shampoo Sparsely for Curly Hair 
Use a Sulfate-free Shampoo to rinse your hair once a week for a clean scalp. Especially, 
If you suffer from dandruff or live in an area where your hair experience dirt build-up often.
Sulfate-free Shampoo
is best due to its lack of 
sulfates, which can further dry your curls and create frizz. Frizzy hair is already an issue for you, so a sulfate-free shampoo with conditioning properties is a smart choice.
The scrunching technique is the best remedy if you're transitioning and for curly or wavy hair that have a hard time keeping their form and definition. As soon as you are out of the shower and your hair are still wet, scrunch hair up to get refined curls. After you are done with the scrunching, use a serum or a leave-in conditioner to lock-in the moisture. This will keep your locks hydrated and frizz free.
Comb your Hair the Right Way
Always comb your hair from the bottom up, combing the bottom of your strands before the roots. This will eliminate the tangles without pulling your hair and prevent breakage. Select a 
Detangling Brush
 to comb your tresses and comb your locks before or during a shower. This will also help preserve the patterns of your curls and will make them look shiny, plus bouncy.
Use a Curling Iron if Necessary
Curling iron for curly hair sounds like a strange thing. However, if you use a straightening iron often to straighten your hair or use color treatments to dye them, the heat, plus chemical damage can alter the patterns of your curls, ending up looking frizzy or fluffed up. To achieve lustrous curls, use a small barrel 
Curling Rod
 to attain your desired curls.
Here is a list of recommended products that can help you maintain your curls more efficiently, following the above-mentioned tips.
Kellis Professional Keratin Sulfate-free Shampoo
This shampoo is amazing for all hair types, especially for curly hair due to its keratin-rich formula, which is a known ingredient for deep nourishment of your hair. The Kellis Professional Keratin Sulfate-free Shampoo can be used on a regular basis since it has a sulfate-free formula and will not strip your hair of the natural oils. The sulfate-free composition of this shampoo also makes it an excellent product for curly locks since it will remove the chances of frizz production. Featuring other components like jojoba oil, and collagen, this shampoo will not only strengthen your hair, but will also make them longer, with a glossy sheen.
Kellis Professional Keratin Smoothing Conditioner
If you haven't been successful in finding the right conditioner for your hair type that is nourishing enough, you need to try this conditioner by Kellis Professional. Made with a complex mix of two types of keratins that hydrate your hair from the roots to the tips. Kellis Professional Keratin Smoothing Conditioner is suitable for all hair types and enhances the softness of your strands, ensuring frizz-free tresses. It is perfect for co-washing and will provide you with the desired benefits of the co-washing technique.
Detangling Brush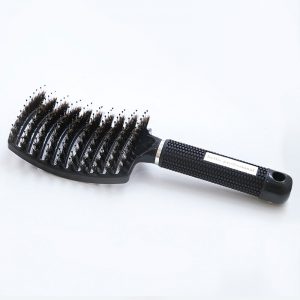 This detangling brush is one of the best and reasonably price detangling brush you can find in stores. Featuring an easy grab handle and graphite bristles, this brush gently detangles your hair. Especially great for curly hair since it will be gentle on your locks and won't pull. You can use it as a 
Detangling Brush
 before, during, or after the shower, and it also helps in the absorption of hair oils into your scalp if you follow the oil therapy with tender strokes of this brush to provide a relaxing scalp massage.
Kellis Professional Superior Leave-in Spray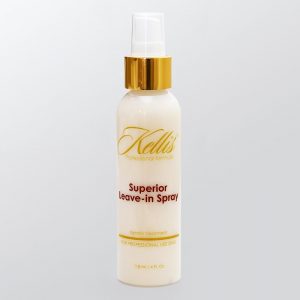 One of the superb leave-in conditioners you can get your hands on, the 
Kellis Professional Superior Leave-in Spray
 is formulated with organic oils and keratin. This product keeps your hair nourished and soft all day long, with no extra steps required. Now enjoy soft, lustrous, and frizz-free hair that are healthy looking, plus easy to manage. If your locks fluff up and are hard to manage, use this leave-in conditioning spray right after the shower. It can also be used as a pre-styling product, before straightening or curling your tresses for a shiny hair look.
Conclusion
Curly locks are not that difficult to maintain and can be made more beautiful by following the suggested tips. With the use of recommended products, you can make your curly hair look even more gorgeous. Now enjoy bouncy curls that are easy to manage.