With new products getting launched by the beauty industry every day, it seems like another tactic to indulge you into spending more. Leave-in conditioners might sound like one of those products that you don't really need and will do just fine without. However, leave-in conditioners are one of the must-have hair products if you suffer from split ends, dull locks, damaged hair, dry tresses, and other hair issues. In today's article, we will be clearing the misconception that whether leave-in conditioners are a necessity or another gimmick product not worth splurging.
What are Leave-in Conditioners?
Leave-in conditioners are a nourishing hair care product that brings the needed moisture to dry and dull hair. As compared to the regular hair conditioners, a leave-in hair conditioner has a light-weight formula and doesn't require rinsing. You can apply it to freshly washed hair or even when you haven't washed your hair for a few days. The leave-in conditioners instantly give a cleaner look to your tresses, along with a boost of hydration.
Who Should use Leave-in Conditioners?
If you suffer from dull or damaged hair and your regular hair conditioner isn't moisturizing enough for your strands, it's about time to try out a leave-in conditioner. If you use styling tools often, love spending time in the pool or enjoy playing with vibrant hair dyes, your locks can really benefit from the addition of a good leave-in conditioner in your hair care regime. To the curly girls who have to battle the frizziness of the hair strands on a daily basis will surely enjoy the softness, leave-in conditioners have to offer. 
Is Leave-in Conditioner a Necessity?
As the summer season has come to an end and we all are enjoying the short span of fall before the winter arrives. It is important to let your hair recover before you start prepping them for the holidays. All those pool parties, basking in the sun on beautiful beaches and trying the trending hair colors for summer must have taken a toll on your gorgeous locks. To repair all that damage before the winter arrives might sound impossible, but it is easier than you think. Solution? A good leave-in conditioner. 
Leave-in conditioners not only hydrate your hair from within and repair the damage, but also create a barrier around the strands to prevent further damage. If you have a busy schedule and can't seem to find the time for deep conditioning or in-shower conditioners, a leave-in conditioner will be a perfect choice. Considering, you can use it on the go and it hardly takes a few seconds to apply it to your locks. 
People with curly and dry hair are not fortunate enough to have their scalp produce a generous quantity of sebum, plus oils to retain the soft texture. Therefore, the hair end up being dry and brittle, making them prone to breakage. Leave-in conditioners can solve this problem by keeping your hair moisturized all day long. You can use it as often as required. Though, that doesn't mean that straight hair can't benefit from this product. People with naturally straight hair can use leave-in conditioners before combing to avoid tangles and to maintain the natural straightness of the strands. No matter what hair type or hair length you have, a leave-in conditioner is definitely a necessity.
How to Choose the Right Leave-in Conditioner?
With endless options available in-stores, it can be a hard decision to choose the right and the best leave-in conditioner for your hair. What you should be looking for is a light-weight formula that isn't loaded with silicones and heavy oils. If your leave-in conditioner is too heavy for your hair and is making them greasy, you are probably using the wrong one. Moreover, those leave-in conditioners that are rich with silicones will only give temporary shine to your hair and will just add to build-up. 
One more thing to keep in mind with the use of leave-in conditioners is not to overuse them. Over usage of any hair care product will have an adverse effect on your locks. Stick to using them only 2 to 3 times a week and right after a shower or in-between washes.
Kellis Professional Keratin Leave-in Conditioner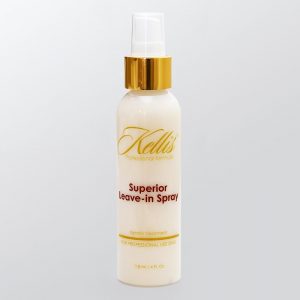 If you are looking for the recommendations for a good, budget-friendly leave-in conditioner that is suitable for all hair types, then Kellis Professional Keratin Leave-in Conditioner is worth mentioning here. Formulated with keratin proteins and essential oils, this light-weight leave-in conditioner provides nourishment, plus shine to your tresses, without making them greasy. It is suitable for use on damp hair, as well as on dry locks. The presence of keratin offers an extra boost of moisture to your strands, resulting in frizz-free locks. This product comes in a spray bottle, which makes it easy to use. Spray onto the dry and damaged part of your strands. Rub it in and you are left with luscious locks.
Final Verdict
Keeping in mind all the points that have been discussed in this article, I think it is safe to say that leave-in conditioners are a necessity. It can be an easy addition to your hair care routine that will produce sleek, shiny and healthy-looking hair. Just one more product that carries multiple amazing perks.
Follow KeratinSupply.com's blog for weekly updates. We're also on keeping you up to date on our Instagram and Facebook, so follow us there!