Straight hair look sleek and beautiful. A very small percentage of women are blessed with naturally straight hair that are healthy-looking. Straight hair are easy to style as compared to other hair types. You don't necessarily need to create a new hairstyle every time since straight hair are always in trend. Your girlfriends probably envy you for your gorgeous straight hair that always look perfect. However, straight hair need equal love and attention, just like wavy or curly hair. Only you can understand the struggle of maintaining the straight hair in their natural glory. 
A proper hair care routine is of utmost importance, or your lovely locks can end up looking dry, dull, and even frizzy. Here are the Top 5 Tips for Naturally Straight Hair that you can follow to always flaunt beautiful and healthy-looking straight hair. Read until the end for product recommendations that will further simplify the hair regime for you and improve the health of your hair. Now, maintaining straight hair will be easy and effortless.
Shampoo your Straight Hair Regularly
Straight hair are required to be shampooed often, unlike the curly or wavy hair. Since the scalp produces more sebum and oils, the hair can weigh down, plus look greasy. To avoid that, use a dry shampoo as needed. However, if the dry shampoo doesn't provide the desired clean feeling, use a gentle Sulfate-free Shampoo on a regular basis to keep the hair clean. Since sulfate-free shampoos are not harsh, they will provide clean hair, without stripping all the good oils from your roots.
Don't Forget the Conditioner
Straight hair are already more oily as compared to other hair types, which will trick you into thinking that you don't need a hair conditioner. However, the conditioner is equally beneficial for straight hair, as it is for the curly hair. Having nourished hair will eliminate the frizz production, which will keep your straight tresses looking gorgeous. After you use a clarifying shampoo, your hair will be stripped of all the oils, so a conditioner will come in handy to restore some of the moisture. Use a quarter-sized amount only and concentrate the application of the conditioner towards the tips of your strands.
Use a Clarifying Shampoo
Opting for a mild sulfate-free shampoo for a regular use is an excellent choice. However, the excess use of dry shampoo, hair care products, and styling products can leave build-up on your scalp. It is recommended to use a good Clarifying Shampoo at least once a week, so all the build-up is thoroughly clean. Now, you can enjoy beautiful, non-greasy hair, every day of the week.
Blow dry Wisely
Washing your hair on a regular basis will develop the need for a blow dry. However, the heat of the blow dryer can be damaging to your hair. To avoid that, set your blow dryer on the cold air setting and dry your hair upside down. Since straight hair lack the natural volume, drying your hair upside down will give the desired fullness to your roots. Alternate between blow drying your hair and using a T-shirt or a microfiber cloth to dry your hair. This will maintain your hair to be free of frizz and damage, allowing them to always look healthy.
Use the Right Brush
Since the generation of static in straight hair is a real issue, and they are prone to having tangles, it is important to treat your hair gently to avoid breakage, plus hair damage. Use a paddle or a detangling brush with graphite bristles to avoid the static issue. Since a detangling brush is more gentle, it will easily get rid of all the tangles and keep your hair frizz-free, plus smooth.
Product Recommendations for Straight Hair
Here are some product recommendation that will help you follow all these easy tips more efficiently. All these items are of superior quality and come with affordable price tags. This will guarantee that your hair care routine for straight hair won't cost you a fortune.
Kellis Professional Keratin Sulfate-free Shampoo
If you are looking for a daily use shampoo that is sulfate-free, this one by Kellis Professional Keratin Sulfate-free Shampoo is an excellent option. It is formulated using nourishing ingredients like keratins, collagen, and organic oils. All of these ingredients are known to provide damage repair to your hair and make them stronger, plus longer. The keratin protein will give the smoothing effect to your hair, making them silky smooth and frizz-free. For best results, use this shampoo along with the Kellis Professional Keratin Smoothing Conditioner. This conditioner is suitable for all hair types and will leave your hair frizz-free, plus tangle-free, with a lustrous shine.
Kellis Professional Keratin Clarifying Shampoo
Unlike other clarifying shampoos, this shampoo by Kellis Professional has a gentle formula, with an equally effective performance of cleaning your scalp. For straight hair that get greasy relatively quicker or you use dry shampoo very often, this is a shampoo worth purchasing. Kellis Professional Keratin Clarifying Shampoo has a perfectly balanced PH that won't over dry your scalp. This shampoo will perform a thorough cleaning action to remove all the impurities and build-up, leaving your straight hair super clean as well as non-greasy.
Kellis Professional Detangling Brush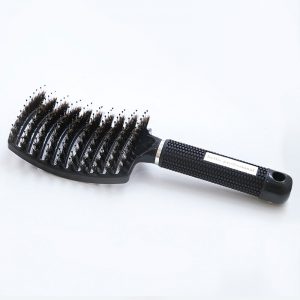 This detangling brush is shaped like a paddle brush, which makes it a 2-in-1 brush. Having a large surface area like a paddle brush, this Kellis Professional Detangling Brush is gentle for your straight hair, which are usually thin and prone to breakage. The graphite bristles of the brush will eliminate the chances of static production and will offer a gentle detangling job for knots or tangles. A helpful tip is to always brush your hair when they are dry since the wet hair can break easily.
Conclusion
Gorgeous straight hair can be managed easily by following these easy tips. These tips are easy to follow, and you can make them a part of your daily hair care routine. Above-mentioned products from Kellis Professional will make it convenient for you to follow the hair care tips efficiently.